Nothing in life is free. At one time, however, domain names were. Twenty years ago – in 1995 – Joshua Quittner penned this historic piece for Wired Magazine and registered McDonalds.com for free.
But, as the expression goes, today is different. A good domain name is hard to find and, when you find it, can cost hundreds of thousands of dollars. Even bargain hunters are often hard pressed to find anything of superior quality for less than $10,000 USD.
Why are domain names valuable?
If you start by trying to answer this question then you're already approaching the answer wrong. Before trying to understand the value of domain names it's critical to understand what your brand means to you. Ask yourself:
Are you building a global or local presence?
Are you planning to conquer the world or looking to serve a section of Utah? For many companies the world is their customer which means a brand name has to be authoritative, memorable and social.
How valuable is your brand name?
Your domain name is the billboard for your brand. It's how people talk about your brand, how they find you on the Internet and how they remember you. Settling for a second-tier name should never be an option.
Do you want people to remember you?
Of course you do. Consistency is one of the golden keys of advertising. Brand confusion appears when your company name is one thing and your domain name another. Visual.ly is a prime example of a brand where the average Joe will likely remember the brand as visually. But what happens if someone builds a site at visually.com — a lot of brand value may have just disappeared.
Let's look back at history for a moment.
The most valuable area code in the world is likely New York's 212. Today it's almost impossible to get it without paying a tidy fee. So let's visually look at the authority that a 212 number brings you.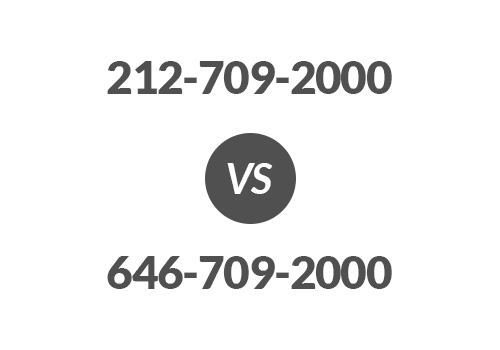 The 212 number shows a certain pedigree which spills over into the expectations people have for your brand. These are good expectations, such as: you are established, experienced, trusted etc. The 646 is just another number. While it does the job it doesn't have those intangible benefits that a 212 number has.
800 numbers are the same. Let's compare: